our Hurricane Season
As we are getting into a new year, we'll be getting into a new our Hurricane Season, we take this opportunity to present any pertinent information to you as it becomes available.
Storm names for the 2017 season are:
Arlene, Bret, Cindy, Don, Emily, Franklin, Gert, Harvey, Irma, Jose, Katia, Lee, Maria, Nate, Ophelia, Philippe, Rina, Sean, Tammy, Vince, Whitney.
History teaches that a lack of hurricane awareness and preparation are common threads among all major hurricane disasters. By knowing your vulnerability and what actions you should take, you can reduce the effects of a hurricane disaster.
Hurricane hazards come in many forms, including storm surge, heavy rainfall, inland flooding, high winds, tornadoes, and rip currents. The National Weather Service is responsible for protecting life and property through issuance of timely watches and warnings, but it is essential that your family be ready before a storm approaches. Furthermore, mariners should be aware of special safety precautions when confronted with a hurricane.
---
– activity at the moment –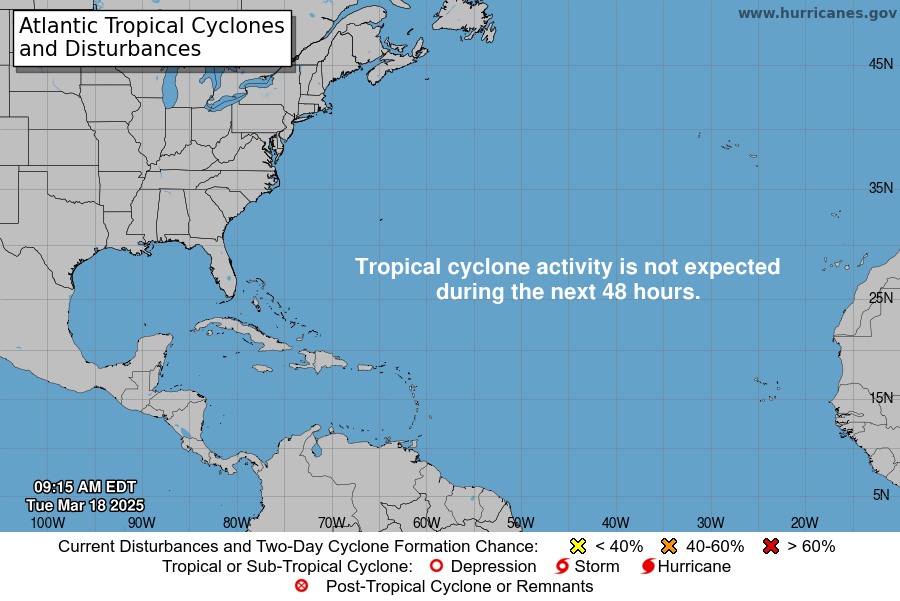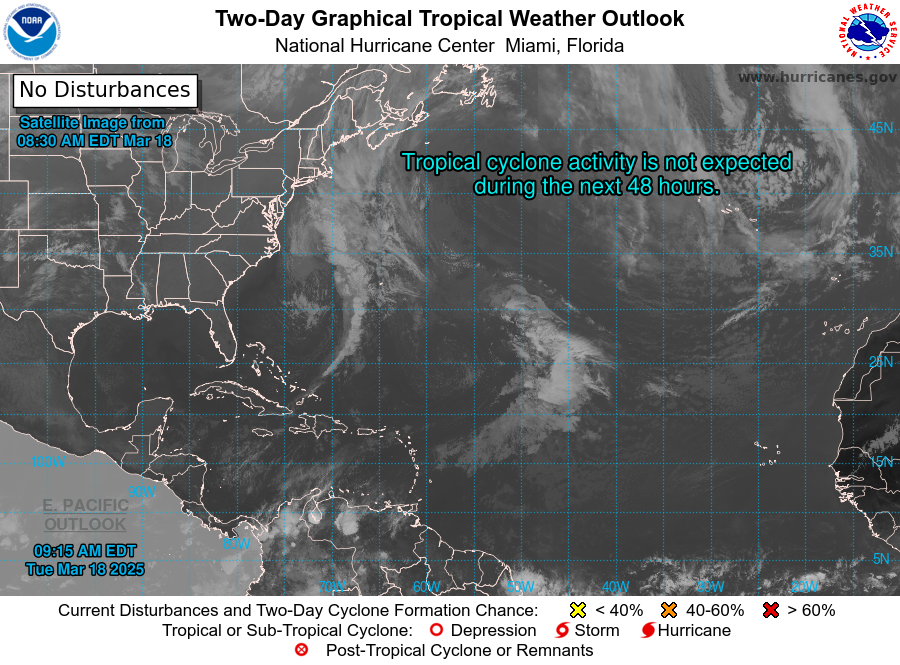 ---
Understanding the Terminology
A tropical cyclone is a rotating, organized system of clouds and thunderstorms that originates over tropical or subtropical waters and has a closed low – level circulation. Tropical cyclones rotate counterclockwise in the Northern Hemisphere.
Tropical Depression – A tropical cyclone with maximum sustained winds of 38 mph (33 knots) or less.
Tropical Storm – A tropical cyclone with maximum sustained winds of 39 to 73 mph (34 to 63 knots).
Hurricane – A tropical cyclone with maximum sustained winds of 74 mph (64 knots) or higher. In the western North Pacific, hurricanes are called typhoons; similar storms in the Indian Ocean and South Pacific Ocean are called cyclones.
Major Hurricane – A tropical cyclone with maximum sustained winds of 111 mph (96 knots) or higher, corresponding to a Category 3, 4 or 5 on the Saffir – Simpson Hurricane Wind Scale. A Post – Tropical Cyclone is a system that no longer possesses sufficient tropical characteristics to be considered a tropical cyclone. Post – tropical cyclones can still bring heavy rain and high winds.
---
Sint Maarten Department of Communication (DCOMM)
Department of Communication (DCOMM), Ennia Bldg., Longwall Rd., Philipsburg, Sint Maarten D.W.I. Tel. +1-721-543-1162, 542-4119, Fax: 543-1169;
GREAT BAY, Sint Maarten (DCOMM) – Disaster Coordinator Winston Salomon, Head of the Island's Office of Disaster Management, chaired the first assessment meeting on Thursday of the Emergency Operations Center (EOC)/Emergency Support Functions (ESFs) in the conference room at the Fire & Ambulance Building in Cay Hill.
The Office of Disaster Management reminds the community to be prepared this hurricane season, and it only takes one to make it a bad season.
Take a look here at our Weather page for more information about the weather at our island.